My name is Gabriel Barrera aka ScenicG. I have trained and practiced as a visual artist most of my life. I have worked as a professional Scenic Artist for the last 18 years. Originally from Southern California, I grew up being influenced by my father to be an artist. My father mentored me by providing me with the tools and resources to create art. I completed my BFA in 1998 from Pratt Institute in Brooklyn, NY. Because of inequalities and exclusiveness in the art world, I found myself becoming more of a commercial artist and producing for the needs of designers. This transition led me to discover scenic art by working as a scenic painter at the amusement park, Knott's Berry Farm. This introductory experience led me to apply and get accepted into grad school for theatrical set design. Despite having a bad experience and not finishing grad school, I continued to pursue a role in theater as a scenic artist. My persistence led me to get over-hire work in colleges, small theaters and eventually full-time work at South Coast Repertory. Once at South Coast, I learned many of the skills necessary to thrive as a scenic artist, but at the same time saw disparity in the lack of diversity on and off the stage.
It wasn't until my employment with Oregon Shakespeare Festival in 2008 that my passion for social justice began to integrate into my role as a scenic artist. OSF provided training in equity, diversity and inclusion which further refined and built my analysis around social justice issues related to my job and life. This embodiment of work has enabled me to lead with confidence in the FAIR program, OSF's internship program. FAIR is a professional development program that provides participants with an advanced fellowship, assistantship, internship, or resident opportunity to learn best practices across all administration, artistic, design, and production disciplines within a professional theater environment. I help youth of color thrive, rather than survive, as artists without compromising their identity. I intentionally reach out to youth of color in the community, and beyond, to develop a diversified workforce within theater production. I attend conferences like USITT and other convenings promoting diversity and inclusion initiatives and engage with youth to advance them into careers in art and theater production.
Besides mentoring a multitude of organizations and companies, I have narrowed my scope to better serve the local community. My grass roots business, ScenicG, provides workshops and lectures to youth from Life Art, which gives at risk youth in the Medford area a place to practice painting and drawing. I also developed a relationship with College Dreams, which will provide me with future mentees as well as other small organizations
Leading with my experiences as an artist of color, I challenge the art and theater worlds. Through my mentees work, my own art thrives and reflects their impact and influence upon the artwork created on stage. Together, we create the change we want to see!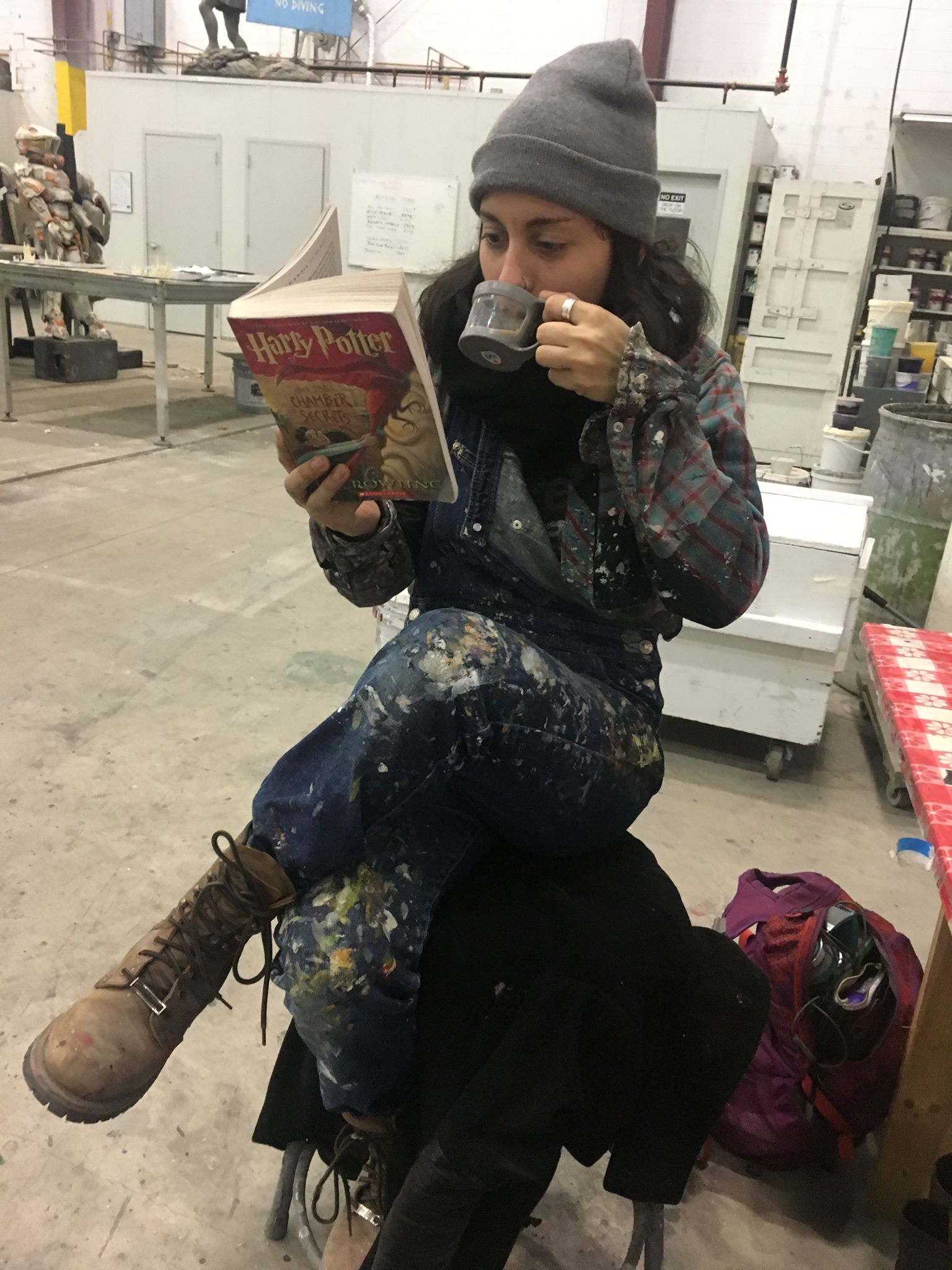 2012 OSF FAIR Assistant
I first met Gabriel Barrera in the spring of 2012 as a senior at Southern Oregon University and FAIR intern. It was my first day and I was extremely nervous, but I soon found out that I had no reason to be anxious. Gabriel is a calm, quiet, well organized leader, as well as kind and patient with his students. As my internship continued, I discovered that behind his calm demeanor, he is a passionate fighter for the wellbeing of his staff and a champion of OSF's diversity initiative.
The FAIR internship allows young artist a chance to dive headfirst into their discipline, learning from a team of talented creators. It gave me the opportunity to use tools and learn techniques that I had never even heard of. Within the first week of my internship, I felt that I had learned as much, if not more than I had learned in four years of college. In the first hour of my internship, Gabriel had me grab a paintbrush and work on the set of White Snake, a show that I watched and marveled at just a few weeks before. The intricate bamboo floor needed to be touched up. Until I stepped onto the stage, I had thought the bamboo was real and not just a mere paint treatment. But Gabriel taught me the technique and trusted me to complete it. I never once felt like I was being given busy work. Rather, Gabriel would give me a project or match me with one of the artists to assist and learn from. He mentored me personally on how to use an airbrush, which is his specialty and something that I had very little experience with. Unfortunately, halfway through my internship, I had broken a bone and needed to wear a cast and use crutches for a month. I was devastated, and thought for sure my internship was over, but Gabriel was flexible and worked with me and set me to work as a props painter. I healed, and continued to learn and grow. As my internship neared its end, I wanted nothing more than to continue working at OSF, but Gabriel encouraged me to travel and learn from other artists in other theaters. Looking back at my career as an artist, it was advice that I will forever be thankful for.
I had a chance this past spring to work with Gabriel again in a painting workshop for young theater students. Gabriel is passionate about theater education, especially among minority students. As a mixed-race woman, I cannot stress enough how important a program such as this is. Everybody has a picture in their head of what a person in different careers looks like. A carpenter is supposed to look a certain way. So is a costumer. But thanks to artists like Gabriel, the cookie cutter image of a Scenic Artist is beginning to get fuzzy. I had no idea scenic artists existed until I reached college, and the students I speak with today are often also in the dark. Gabriel's program, as well as the FAIR Internship is giving young artists a boost, no matter what they look like. All that matters is their passion and willingness to learn.
-Roxanne Miftihittin| Designer| Prop Artisan| Costumer| Entrepreneur